Photo Books Online


You don't have to be an artist to turn your
photos into a cherished photo book

Easy to use online software – PC or Mac
use anytime, anywhere

Personalise with the widest choice of styles,
graphics, fonts and covers

Eco-Friendly, high quality printing and binding
– a photo book you can be proud of

Things You'll Love about Digital Print Australia's Photo Book
"It's a classy job.
I couldn't be happier."

"My fantastic photo book arrived today. The turn-around time was amazing, as was the printing quality and the reproduction.

It's a classy job. I couldn't be happier. My thanks to the team at Digital Print Australia. I'll be back. Thanks again".

Ray Martin Channel 9 Sydney

Competitive pricing – prices start at $9.95 for softbound books.

Flexible, easy to use, online photo book software – Simple enough for a beginner, plus all of the design tools you'll need to produce a one of a kind masterpiece.

Eco-friendly printing – High quality printing that supports the environment.

Super Express Books – Super express book are delivered in 1-2 business days – Limited range of books.

Express Delivery – Select a regular photo book with express delivery and get your book in 5 business days.

Regular Delivery – Regular photo books are delivered in 6 - 10 business days.

100% Satisfaction guaranteed – We hope that you'll love your photo book, but in case you're not happy with the quality, we will give you a 100% refund.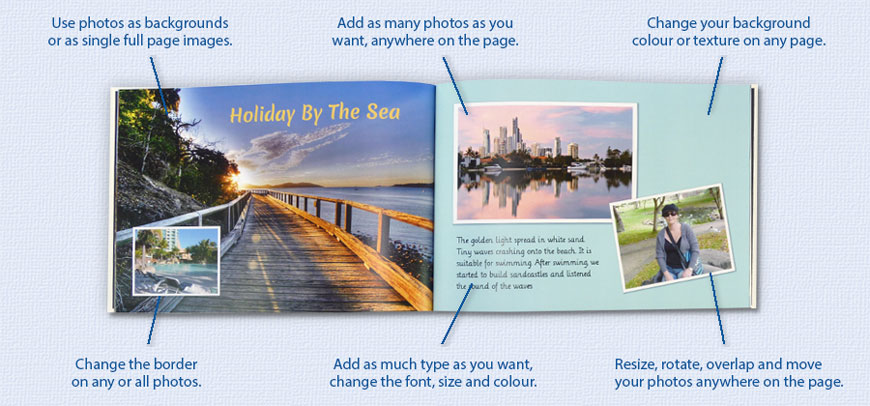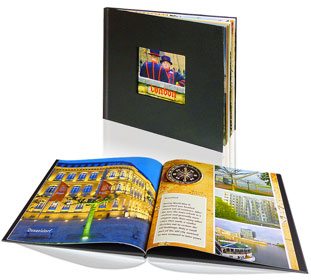 Express Photo Books
Need a photo book in a hurry?


Our same high quality photo books – delivered to you in 1 -2 days or less.
Hard cover with two popular sizes to choose from. Perfect for last minute gifts.

Get more information
Complete your purchase by 11 a.m.
– Your Express Photo Book arrives in 1 -2 working days!

Designing using InDesign
If you are an experienced designer and would like to do your photo book in InDesign, we have set up some blank templates for you.
Other websites run by Digital Print Australia include - Baby Thank You Cards and Business Cards Online