Affordable, High-Quality Desk Calendars for Business - Clubs - Organisations

High-Quality Calendars – professional results even with no design experience

Easy – everything is online, nothing to download – easy to use software – work at your own pace – complete immediately or over several days

Affordable – volume pricing saves you money – compare our pricing

No job is too small – no minimum order size

Fast turnaround – printing & delivery in 2 weeks – call if you need faster
Desk calendar design is easy – Just 3 steps from start to finish

Pick your calendar style and design

Add your own images

Use your own images

Select images for FREE from our royalty-free collection of
professional photographic images
Add your logo, contact information and messaging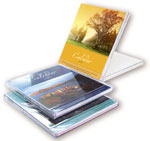 You'll find the online calendar program even easier to use, with new wall calendar designs
and more FREE images.
We take a lot of pride in our calendars and always guarantee your satisfaction.
If you have any questions, have a special request, or need help with the online program,
just give us a call at 1800-970-971 – we're here to help.
Cement your relationship with clients or family on a daily basis with the CD-cased desk calendar.
Include your choice of appealing photographs, be they family or scenic. Photo descriptions and public holidays
are displayed on this item which adds a touch of personalisation to any desktop.