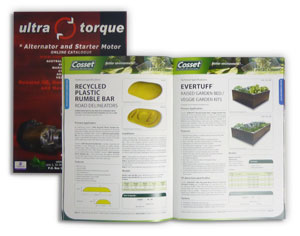 Catalogue Printing

Help to promote a large range of products

4 styles of binding, saddle stitched, perfect bound, hard cover or wire bound

Reduce your overheads by only printing smaller quantities

Colour or black and white printing

Perfect Bound - Soft or Hard Cover Binding

Perfect Binding, also known as soft cover binding, is much like paper back novel binding. A strong adhesive is used to glue the pages in place by attaching them to a soft cover.

Hard Cover Binding, is much like coffee table book.

Saddle Stitched Binding

Saddle Stitch Binding is a technique that holds loose printed, folded, and nested pages with staples or stitches at the centre of the fold (the spine).
Catalogue printing is simply making catalogues. Catalogues are comprehensive listings of products available for sale. You'll be able to include photos for each product to assist customers pick the best one.You'll be able to advertise the various sizes which you offer.You'll be able to explain every item right down to the smallest detail if you want.