How to set up your files
Spending a few extra moments to prepare your files before sending them to Digital Print Australia can make all the differance.
Page Size
Text pages are 343 x 340 mm (add an extra 5mm on all sides for bleed)
Cover size is 350 x 350 mm (black intimation leather)

How to set up your files
A template of the portfolio's dimensions are available for download as an Adobe InDesign document click here or an Adode Acrobat PDF file click here. Or create your own document by setting up all the page dimensions as illustrated below. Make sure to set up the 5mm bleed allowance and be aware of the non-visible area of the inside edge of each page and you are ready to design.
There are many considerations to assess when designing your book. Choice of fonts, images and layout are all important to create a design to display your work at its best.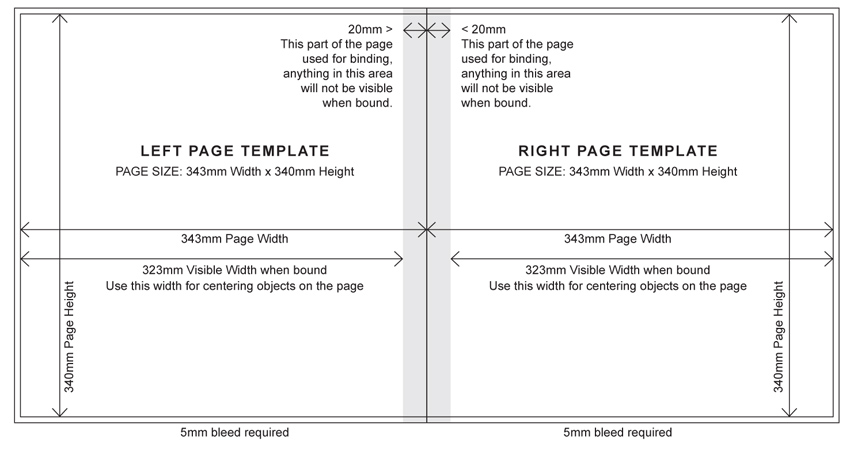 Images
For the best printing results use images that are high resolution, ie 300dpi. Images can be either RGB or CMYK.
Spreads
If you choose to spread an image over 2 pages you must take into account the 20mm that will be lost on the inside edge of each page in the binding process. You will need to align your image so that they meet in the correct position. As results may be unpredictable we suggest you avoid doing this if the image requires exact alignment.

Bleed
Items that bleed off a page need to be extended into the pasteboard/artboard area of the artwork by 5mm. This allows us to trim your job accurately with a clean finished edge.
Creating PDF files
Many industry design applications, such as InDesign, QuarkXpress, PhotoShop and Illustrator can create PDF files directly. If you are using other software without the ability to create PDFs, go to the "online services and support" section on our website for more information.
Supply us with one PDF file of all pages in the correct order. Do not save as spreads, ie not with left and right pages together.
The PDF must be for high resolution press printing. Images should not be compressed lower than 300 pixels per inch. Select crop marks and 5mm bleed. Images can be set in either RGB or CMYK. When created, open your PDF and do a final check before submitting it.
Spending a few extra moments to prepare your files before sending them to Digital Print Australia can eliminate any time consuming or frustrating errors.

Ordering online
We recommend that files for uploading be compressed as a ZIP, RAR or StuffIt archive. This will reduce the upload time and help protect the compressed files against corruption during transfer.
Go to:
www.digitalprintaustralia.com/portfolio
Choose you preferred method of payment, credit card or EFT/Direct Deposit and click through to the order form. Once you have filled in the form follow the instructions to upload your hi-res PDF.

Ordering by post
Send your hi-res PDF file with a completed order form from our website to our address below.
Digital Print Australia
135 Gilles Street
Adelaide, SA, 5000