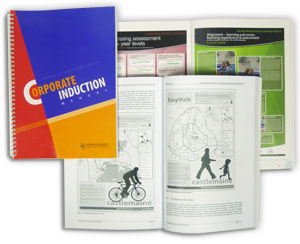 Training Manual Printing

3 styles of binding, saddle stitched, perfect bound or wire bound

Reduce your overheads by only printing smaller quantities

Colour or black and white printing

Perfect Binding

Perfect Binding, also known as soft cover binding, is much like paper back novel binding. A strong adhesive is used to glue the pages in place by attaching them to a soft cover. When finished, Perfect Binding creates a clean professional look with a flat spine.

Saddle Stitched Binding

Saddle Stitch Binding is a technique that holds loose printed, folded, and nested pages with staples or stitches at the center of the fold (the spine). Saddle Stitch is amongst the easiest and popular types of binding.

Wire Binding

Bound with continuous hinge of double loops of wire to hold the book together. This look is widely used among graphic designers because it provides a stylish and professional metal finish. This technique holds pages so they can't be altered without de-binding the book. This style of binding also lays flat for the user.
Training Manuals
Although most companies that have a need for training manuals will have an electronic version available, a printed copy is portable and absolute proof that the person referring to it can access it, as a computer may not be on hand in many onsite situations outside of the office. Legislation requires that most new employees are given a printed version of workplace requirements and you would be wise to ensure that your company is complying with these regulations.