Presentation Folder Download Templates
We have two choices for designing your own folders, design online or download a cutter guide and design using your own software.
You can also download a cutter guide to supply to your graphic designer or have us set it up for you.
With a single fold or a 4mm gusset, the presentation folder has a final size of 225 x 300mm which is suitable for A4 pamphlets. Click on the link below to download a template of the presentation folder die-cut, suitable for A4 presentations. If you wish to put multiple documents or thicker content in the folder it is better to use the thick style.
Download Thin Style Templates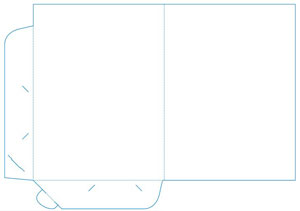 Download Thick Style Templates

To use the PDF files place them in the background as an image and design over the top of them. We will delete the cutter shape out before we print the final job. The document size you need to create is 520mm x 364 mm. If you have any problems feel free to contact us.