Baby Thank You Cards for Boys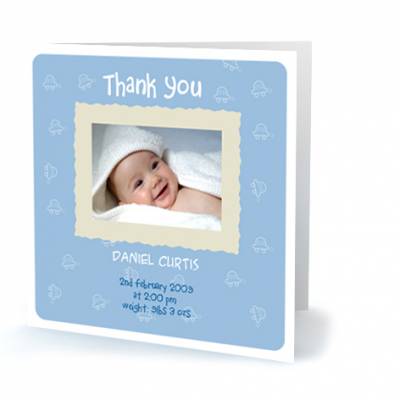 Everyone knows that baby boys are made of frogs, snail, and puppy dog tails, but they also bring a great deal of joy to their mothers, fathers, extended family, and future friends too. At your baby shower, and for several weeks after your baby's arrival, you and your baby boy will be gifted with a variety of baby gifts. What better way to thank those that thought of you and your bundle of joy than to create a customized thank you card featuring a picture of the new man in your life. Keep reading below to find out how we can help you create the perfect baby thank you cards for boys.
Soft, Yet Masculine, Baby Cards
We make it easy to upload a picture of your adorable little guy to feature on your thank you card. To ensure your baby boys' masculinity shows through, we have a variety of baby boy themes to choose from including light blue, dark blue, yellow, green, and even red backgrounds. To enhance the thank you cards many of our baby thank you cards for boys are available with images of bubbles, cuddly baby animals, blue booties, trees, blocks, birds, and many more.
What to Expect When Ordering Baby Thank You Cards for Boys from Us
When you order baby thank you cards for your little boy, you can expect high-quality, professional thank you cards. We use 300gsm silk card, so you can ensure your cards are durable and will look great. Our cards also come with their own envelopes, and are blank inside, so you can add your own personal message to those who thought of you and your new addition. We also offer a variety of ordering options. Whether you need ten thank you cards, or 150 cards, we can have them express shipped to your front door in about five business days. Don't worry about what the cards will look like when they arrive, we order a free online proof for you to examine before confirming your purchase. This way you know exactly what to expect when you open your freshly delivered products from us.
Personalize Your Thank You Cards for a Truly Unique Announcement
In addition to adding a picture of your baby boy, you can also add your baby's full name, birth date, time of birth, length, and weight. Creating this kind of unique baby thank you cards for boys allows you to use the cards as a birth announcement as well. By doing this, you are actually giving those who gifted you a gift of your own as well.
Make sure to say thank you in a big way to all those who welcomed your baby boy into the world by ordering customized baby boy thank you cards from us. Since we are sure you will be impressed with our quality and attention to detail, we welcome you to come back and order additional thank you cards as needed. We can also help you create birthday invitations, birthday thank you cards, baptism announcements and nearly anything else you want to announce to your friends and family.