Baby Thank You Cards for Multiples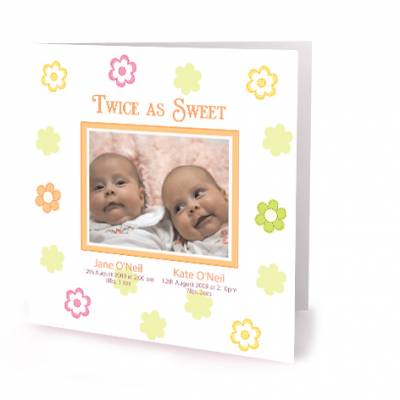 When you find out you are expecting multiples, you may be temporarily overwhelmed. However, as time passes, you will be more than ready to welcome two, three, or even four, new babies into your home. Friends and family will likely be just as excited about your multiple arrival, and will shower you with baby essentials and other fun gifts as well. One of the best ways to thank your friends and family is to send them a personalized thank you card featuring none other than your adorable new family.
Ordering Baby Thank You Cards for Multiples From Us
We make it easy to order high-quality, personalized thank you cards right from the comfort of your own home. With a variety of thank you cards to choose from, we will make it easy for you to create a truly unique and memorable card. We even prefold the cards for you, and send you matching envelopes too. Whether you have all girl multiples, boy multiples, or a combination of the two, we have colors and themes that will match the occasion perfectly. To ensure that your thank you cards are truly personal, the inside of every card is blank, which makes it perfect for your own handwritten message.
Themes for Baby Thank You Cards for Multiples
Browse through our extensive baby thank you card inventory, and you will find many different background colors to choose from including blue and pink. For mixed gender multiples, we also offer white, green, and yellow colored backgrounds. In addition to bright and vibrant colors, we can also embellish your thank you cards with butterflies, blocks, fuzzy animals, teddy bears, bubbles, flowers, and many other images.
Upload a Picture of Your Multiples
To truly make your baby thank you cards for multiples unique, we make it easy to upload a picture of your babies, and to add your own text too. Ideas for your thank you cards include close ups of your infants' faces, or full body shots of the twins, triplets, or quadruplets, laying side-by-side. If you want to get truly creative, you could dress the babies up such as adorning the babies in cheerleader outfits or football jerseys. In addition to an adorable picture, introduce your kids to the world by adding their names, date of birth, and vital statistics.
Why Personalized Baby Thank You Cards for Multiples are So Special
Baby thank you cards for multiples are so special because there are likely so many people around you who can't wait to meet your new little family. As new parents of multiples, you will likely be a bit overwhelmed in the first few weeks or months of the multiples arrival. Thankfully, friends and family will be more than willing to help you out, and you will be ready to thank them with your gorgeous, custom-made baby thank you cards.
In addition to high-quality thank you cards, we also offer a variety of other custom printed products. For this reason, make sure to visit us again whenever you need printed products for your growing family.