When scrapbookers first switched from paper albums to working digitally I sometimes heard people say that itseemed like the social aspect of scrapbooking had pretty much disappeared. After all, we were used to piling all of our materials into a bag, box, wheeled luggage, or other sturdy (and absolutely jam-packed) container and lugging it to a friend's house for a weekly or monthly crop—or for an evening, whenever we could fit it in (and wherever had stairs that weren't to steep for us to lug our wheeled personal supply warehouses to!). For those of us who still continue to work in tandem on digital and paper scrapbooking projects, we can vouch for the fact that working digitally on canvas prints or photo book projects has been a revolution in terms of supplies. We can now travel light—very light—the only things we now need are functional electrical outlets, a laptop or home computer, a power supply and our memory card or other storage for our digital files. Amazing!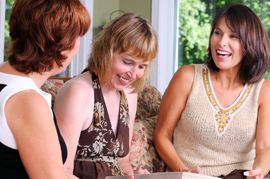 What has happened to the social aspect of things, though? What about all of that idea-sharing, the leafing through each other's books as we spent an evening trimming, cropping, chatting, laying out page ideas, and adhering photos and embellishments to our pages? Part of what makes using digital scrapbooking software so much more convenient than traditional paper-and-scissors album-making is that you can train yourself on the software or simply work by trial and error to train yourself as you go, so that you improve as you create. You no longer have to wait for the monthly crop to get a whole bunch of new and interesting ideas for you projects. The software is made so that there is lots of choice and also a great deal of room for creativity, but it's also easy enough for even the most reluctantly Digital among us to succeed at quickly putting together the layout for pages that will in turn quickly become our next printed album.
Making a photo book certainly can be a project you complete on your own. In fact, one of the main advantages of making photo books instead of paper albums is how easy it is to click and fill in pages with digital photos and digital artwork—no outside help or advice required. And you can work anywhere you can use your computer and connect to the net-- but despite all of this it doesn't have to only be a solitary activity.
Working with a friend, colleague or family member
The most simple kind of collaboration is to create a book with one or two other people. This is fun for friends who've shared a vacation or weekend getaway, or for anyone who's been invited to share in a celebration (baby shower or wedding shower, for example). Best of all is that it takes minimal organization and commitment—just a phone call and a few hours of time to sit down together and create a photo book together!
If you want something a little bigger and maybe slightly more organized, consider rotating the host for a series of digital crops, or work on a larger collaborative project with your family, circle of friends, colleagues, or the participants from a team or organization whose members share a common interest.