One of the best things about working with digital albums is that you can invest your time creating one book using the software and you can then order as many copies of the album as you would like. This makes it the perfect project to celebrate a wedding—whether it is an engagement book celebrating a couple's lives together, an album capturing the wedding day itself, or a set of identical albums that can be given as a keepsake and thank-you gift to people in the wedding party.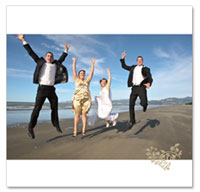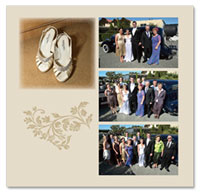 Digital albums are also very well suited to collaborative projects—a big improvement over the days when everyone was using printed photographs and making copies meant digging up negatives or searching for duplicates. If you decide to make a gift for the bride-to-be for her wedding shower—or for the bride and groom as an engagement or wedding present--send out a message letting friends and family members know you are looking for photographs to use in an album you will be giving as a gift. Ask everyone to send in a few of their favourite photos—make sure you ask for a specific number or set a limit for the maximum number of photos you would like to receive if you don't want to be overloaded with images. If you can, ask the fiancé or a parent or sibling to be in on the project, since they may be able to find some great candid photos. If you are keeping things secret, make sure you send any email messages to an account only read by only the intended recipient—some couples share an email account, even if it is only in one person's name!
If you are part of a circle of friends or close family members, consider asking each person to help you make a page. Or else set aside a date to get together as a group to work on the project. Ask that everyone sends you images first (and make sure to store them all in the same place on the computer, or put them all on a USB key or disk so you don't have to waste time trying to find attachments or to remember where you stored the files everyone has sent!). If those participating are short on time or can't make it in person to help create the album, then ask that each person send in one or two stories or a message they would like to pass along to the couple or to the bride-to-be. Type out these messages in the text boxes on the page in your digital photo book, and include a picture of the friend or family member with each message.