If you have an extremely large number of photos or ideas to fit into your album, remember that you can change the formatting of some previous pages. Some of us tend to feel that once a page is complete it should be left that way—if you look again, you may find that a page with two photos laid out diagonally across the page may have room for two more photos as well. If you have dozens of photos left unused and you have finished your photo book, you might also want to consider transforming a page or two into a collage layout.
I have seen beautiful pages created by a friend who used a collage of family photos for the last three or four pages of her 12" x 12" digital album. She captured moments from the lives of her grandparents, parents, aunts and uncles and all the grandchildren, to celebrate her grandparents' anniversary and the legacy and memories they had passed on through their family through the years. Just remember to place the most important photos where they will be noticed—or leave these special photos for other pages in the album, where they will be the centre of attention, since our eyes tend to jump from here to there when faced with a collage of images.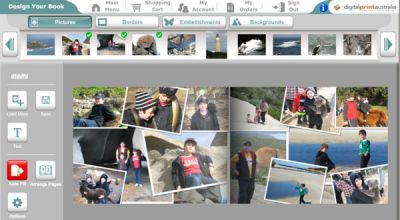 Sometimes collage brings to mind a random assortment of things that do not go together. There is nothing wrong with including a few pages like this in your current project, although I usually like to balance an album with a few more structured pages nearby this kind of layout. In its loosest form, a 2-page collage spread could include any of your favourite photographs taken from a variety of sources—heritage family photos, baby pictures of yourself or loved ones, school photos, formal shots from weddings or proms—even photos from photo booths or any old Polaroids you can find and scan. Include a title that ties the page together, or make one photograph the central image which will become the main focus for the page.
Another fun way to incorporate collage into a family album is to do a collage page or two for each member of your family. Include favourite places, people, school photos, family photos, photos from special trips or vacations, and anything else you can think of that is meaningful or fun for that person. Extend this activity and spend a few hours in your home or neighbourhood searching for images to add to each person's collection of favourite things!